Christmas dinner wouldn't be complete without a smoked ham, and Mesquite Grill Plus makes a good idea even better. Seasonings Greetings! Hammy Holidays!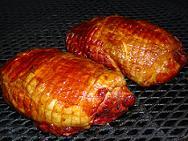 Flavors:
Mesquite Grill
Serves:
8
Ingredients:
1 spiral cut ham at room temperature
7 oz Mesquite Grill Plus
Directions:
Prepare an outside grill for smoking using any flavor of wood chips.
Generously coat the outside of the ham with the Grill Plus.
Once the smoker is fully functioning (heavy smoke), place the ham inside and close the lid.
Do not open the lid for at least 15 minutes.
After 30 minutes, begin checking the internal temperature of the ham.
When the temperature inside the ham is 145°, remove, serve, and enjoy.