That's right, there's a reason it's called Grill 'Plus'. This recipe can be modified to incorporate any of your favorite Grill Plus flavors.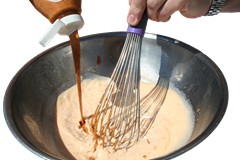 Flavors:
Mesquite Grill, Original, Herb & Garlic, Lemon Pepper
Serves:
30
Ingredients:
2 parts milk
1 part Grill Plus
Directions:
Combine both ingredients in a large mixing bowl.
Whisk thoroughly until blended.
Use in any recipe calling for milkwash, works well with fried foods.