Who knew? Original Grill Plus on the great American snack food quite simply rocks.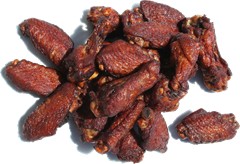 Flavors:
Mesquite Grill, Original, Herb & Garlic, Lemon Pepper
Serves:
4
Ingredients:
24 chicken wings
1 cup Original Grill Plus
Directions:
If wings are frozen, they must be completely thawed prior to utilizing this recipe.
Place Grill Plus in a large mixing bowl, add the wings, and toss until liberally coated.
Gently place wings in a preheated 375° fryer until done (juices drip clear).
The wings should be deep brown in color when finished.
Allow to drain, serve and enjoy.