Subsititute practically any of your favorite fish varieties into this recipe, it's impossible to go wrong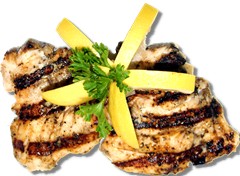 Flavors:
Lemon Pepper
Serves:
4
Ingredients:
4 7-8 oz yellowfin grouper fillets
8 tbsp Lemon Pepper Grill Plus
Steamed rice
Directions:
Preheat grill surface.
Evenly brush the topside of the fillets with Grill Plus and place on grill, coated side down.
Brush the uncoated side of the fillets while cooking.
Cook for 5 to 7 minutes, turning as necessary.
Serve over steamed rice and enjoy.