Another awesome combination of flavors on our favorite finger food. Super Bowl indeed.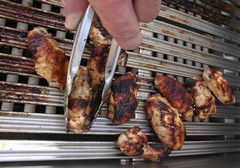 Flavors:
Original Flavor, Mesquite Grill
Serves:
8
Ingredients:
30 chicken wings
½ cup Mesquite Grill Plus
½ cup Original Flavor Grill Plus
Traditional condiments
Directions:
If wings are frozen, they must be completely thawed prior to utilizing this recipe.
Thoroughly combine both flavors of Grill Plus in a large mixing bowl.
Add the wings to the mixture and toss til evenly coated.
Place chicken on grill or bake in a 375° oven until thoroughly cooked (juices drip clear).
Serve with traditional condiments if desired and enjoy.