Back again for Christmas, the traditional holiday bird gets the Grill Plus treatment, including a simple preparation. Smoke 'em if you got 'em.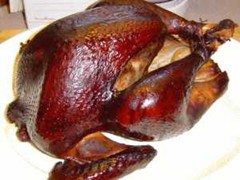 Flavors:
Mesquite Grill, Original, Herb & Garlic
Serves:
10
Ingredients:
1 thawed whole turkey (12-15 lbs)
1 cup Mesquite Grill Plus (Original or Herb Garlic can be substituted if desired)
Directions:
Frozen turkey must be completely thawed prior to utilization of this recipe.
Prepare a smoker grill or preheat an oven to 350°.
Remove the innards and trim the turkey of excess fat, then tuck the wings under themselves.
Evenly paint the turkey with Mesquite Grill Plus. Avoid excess.
Place the painted turkey into the cooking device, cook until a meat thermometer inserted into the center of the turkey leg reads 165°.
Remove from heat, carefully carve, serve with traditional sides and enjoy.