An easy to prepare dish with a subtle Southwestern flair, perfect for a light lunch.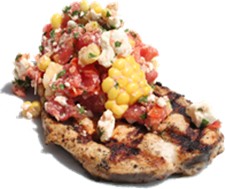 Flavors:
Mesquite Grill
Serves:
4
Ingredients:
4 (7 oz) skinless, boneless chicken breasts
4 tbsp Mesquite Grill Plus
1 diced red onion
1 cup corn, cut off the cob
1 diced tomato
1 finely diced jalapeno pepper
½ bunch finely chopped cilantro
1 cup crumbled feta cheese
2 tbsp vinegar
Directions:
Preheat a grill surface.
Combine onion, corn, tomato, jalapeno, cilantro, cheese, and vinegar in a mixing bowl and let stand for 30 minutes. Season to taste.
Brush chicken with Grill Plus and cook on grill to desired doneness, top with salsa and enjoy.