Another one of Tim's signature dishes, GP Smoked Tuna Dip is a can't-stop-eating-it favorite with the locals in Destin. If you haven't tried this, you haven't lived.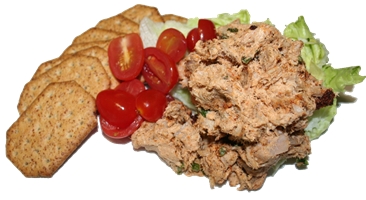 Flavors:
Original, Mesquite Grill
Serves:
4
Ingredients:
½ lb fresh Yellowfin tuna (you can use canned tuna if fresh is unavailable… we'll let you slide)
4 oz water
8 oz Mesquite Grill Plus
¾ lb softened cream cheese
½ cup chopped green onion
¼ cup chopped celery
Directions:
Cook the tuna, preferably on a grill.
Puree the cooked tuna and the water in a food processor.
Combine the cream cheese and the Grill Plus in a mixing bowl.
Add the tuna puree, celery, and onion to the cream cheese blend, mixing thoroughly.
Serve with fine crackers or fresh bread and enjoy.
Optional: add cooked farfalle or penne pasta for an excellent pasta salad.