This spicy twist on Tim's signature dish is sure to drag the taste buds kicking and screaming into a frenzy.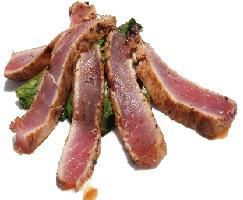 Flavors:
Original Flavor, Lemon Pepper
Serves:
4
Ingredients:
2 7-8 oz sushi grade #1 tuna steaks
6 tbsp Original or Lemon Pepper Grill Plus
1 tsp minced garlic
1 bunch fresh spinach
2 tbsp olive or canola oil
¼ cup small diced red pepper
Directions:
Coat the steaks evenly and liberally with the Grill Plus.
Place a large saute pan over high heat for several minutes.
Carefully place the steaks in the pan, searing each side for 30 to 45 seconds. Remove and set aside.
Immediately place the spinach, garlic, and oil in the pan, turn frequently, and cook just til wilted.
Place the spinach in the center of four plates.
Cut the steaks against the grain into ¼ inch strips, and fan the strips around the spinach.
Top with diced red pepper, serve immediately and enjoy.