A classic fave gets a breath of fresh air with the help of Herb and Garlic Grill Plus.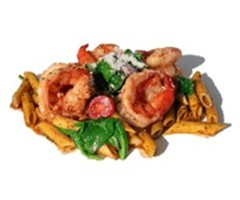 Flavors:
Herb & Garlic
Serves:
4
Ingredients:
½ lb. medium (26-30 count) shrimp, peeled and deveined
¼ cup Herb and Garlic Grill Plus
¼ cup white wine (or water)
½ cup chopped tomato
1 cup spinach
grated romano cheese to taste
Directions:
Heat the Grill Plus and the white wine or water in a saucepan over medium heat until the sauce begins to boil.
Add the shrimp, cooking until firm and pink in color.
Add the wine and tomato, cook 2 more minutes.
Add the spinach, cook until heated. Serve topped with cheese.
Also great when served over rice or tossed with pasta.