By request, a no-fuss, easy to prepare meatloaf recipe incorporating the ever popular Herb & Garlic Grill Plus.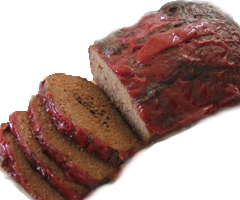 Flavors:
Original, Herb & Garlic
Serves:
4
Ingredients:
1 cup diced yellow onion
1 cup diced green bell pepper
¾ cup diced celery
2½ lbs ground beef
1/3 lb Herb Garlic Grill Plus
2 slices white bread, dipped in water
Directions:
Blend onions, peppers, and celery in a food processor until fine.
Place beef, Grill Plus, bread, and the vegetable blend into a large mixing bowl and combine well.
Remove and form into desired meatloaf shape, place onto a baking pan.
Optional: wrap strips of Applewood bacon around the top of the loaf.
Bake at 350° for 45 minutes, or until internal temperature reads 140°.
Remove and allow to rest for 15 minutes.
Serve with pan drippings and enjoy.