A wonderful antipasta accented by the unique flavor of Original Grill Plus.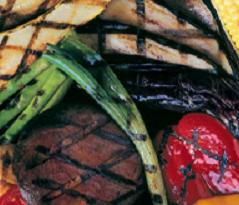 Flavors:
Original
Serves:
4
Ingredients:
1 zucchini
1 yellow squash
8 asparagus spears
1 yellow onion
1 portobello mushroom
1 red pepper
4 tablespoons Grill Plus
8 oz. feta cheese
6 Romaine leaves
1 tbsp olive oil
Directions:
Slice vegetables to desired size.
Place into bowl and add Grill Plus, toss til coated thoroughly.
Place vegetables on a hot, preheated grill.
Cook til done, removing each vegetable as it is finishes cooking.
Chill in refrigerator for 30 minutes.
Arrange romaine leaves on a plate and place vegetables on top.
Lightly drizzle with olive oil.
Garnish with feta cheese, serve and enjoy.