A unique technique Chef Creehan came across in the British Virgin Islands lends itself well to this spectacular salmon dish.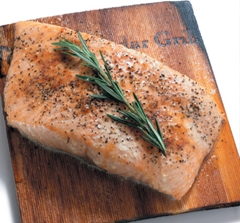 Flavors:
Original, Lemon Pepper
Serves:
4
Ingredients:
4 (14″) cedar planks
1 (3 lb) side of fresh salmon
3 cups chicken stock
1 tbsp lemon juice
½ stick butter. chopped
¾ cup Original Grill Plus
1 tbsp chopped garlic
1 cup brown sugar
4 rosemary sprigs
Directions:
Soak the planks in water for 30 minutes or longer. Preheat an outdoor grill to high.
Remove the skin and pin bones from the salmon, then carve into 4 fillets.
Combine the chicken stock and lemon juice in a saucepan, cooking until thickened. Remove from heat and gradually whisk in butter until blended.
Drain the planks and place the fillets skin side down on them. Brush with the Grill Plus and sprinkle with garlic and brown sugar.
Place the planked salmon on the grill and cover, cook until the salmon flakes easily.
Serve on the plank with the prepared sauce, garnish with rosemary sprigs and enjoy.